Shanghai Up-Fluorochem Co., Ltd. can provide a variety of R&D outsourcing services, including chemical customization, synthetic process development and optimization services.

Our company has more than 500 square meters of R&D center in Songjiang Economic Development Zone. The central laboratory has a group of doctors with high attainments in organic chemistry, organic synthesis and medicinal chemistry. Master, research and development experts in synthetic technology, a large number of professional engineers and engineers with rich experience in production in chemical engineering and process, pharmaceutical engineering technology, and many doctors from the Chinese Academy of Sciences. Technical support, with strong scientific research strength. And the company has a full range of scientific research equipment and equipped with the most modern analytical testing equipment. It can meet the customization requirements of customers from grams, kilograms to tons, process development and process amplification optimization.
We will give full play to the advantages of our technology, equipment and talents, and sincerely serve the production and operation of fine chemicals and related intermediates at home and abroad.
From the laboratory to large-scale production: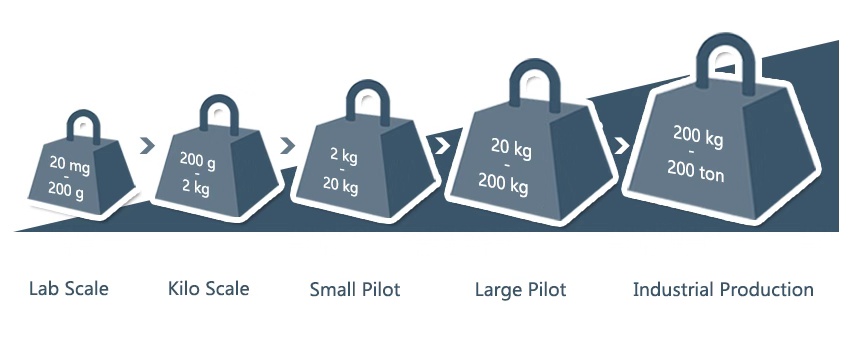 Our service:
・Synthesis route research and confirmation
・Process improvement and optimization
・Steadyness and process limit test
・Process amplification and technology transfer
・Grade to tons of production
・GMP raw material and intermediate production
Our advantage:
・Reducing the synthesis step to reduce costs
・Improve process efficiency and output
・Replace the serious reactions of dangerous reactions and environmental pollution
・Committed to complex compound synthesis and multi-step synthesis
・Develop and optimize the reaction process to make product synthesis suitable for industrial production
・Develop new products according to market demand